When attempting to integrate your Brainshark account into Microsoft Outlook using the Brainshark Outlook plug-in, you may come across an error message similar to the one shown below: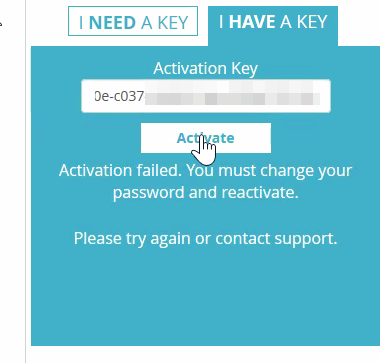 This message can appear if your Brainshark password has recently been updated or reactivated, or if your Company Administrator has requested that your password be changed the next time you log in. If this is the case, you'll need to generate and copy a new Outlook activation key through your user profile to replace your existing key in Outlook.
To resolve this error message:
Log into your Brainshark account as usual

Enter in a new password if prompted before being brought to your company site

Select Edit Profile from your user profile dropdown menu, then scrolling down to the Outlook Activation Code section and selecting Copy next to the code displayed (see below):


Once copied, paste this new code into your Outlook plugin
If you're still seeing this message, a Company Administrator may need to manually edit your user profile to prevent any of your passwords from being reset
*Note: If you need assistance contacting your Company Administrators, please refer to this article for more information.
Additional Trainings
How to Add Brainshark to Outlook
Why can't I share this presentation through the outlook plugin?