Managers and Administrators have access to the Management Hierarchy feature. This allows them to view Scorecard data from any user or management team and see how their performance compares to other teams. This tool helps to manage training progress and can help identify gaps in performance, skills, and knowledge. To do this, the Management Hierarchy will need to be defined in Brainshark via the user profiles.
To assign a Manager:
Click on Administration

Select Manage Users

Under the Actions column for your user, click Edit Profile

Click Find next to Manager Username

Search for the manager and select their last name to assign the manager
Submit your changes once completed
To enable Management Hierarchy
Existing customers can enable this feature themselves. New customers will have this feature enabled and have the option of disabling it through the instance settings page.
Click on the Scorecards tab
Navigate to Settings > Instance Settings
Check the Enable management hierarchy view
Click Save Changes
To access the Management Hierarchy:
Click on the Scorecards tab
Navigate to Teams > Management Hierarchy
Select View Team/View Individual to navigate to the scorecard of that member
OR
Mark two or more teams and click Compare in the top right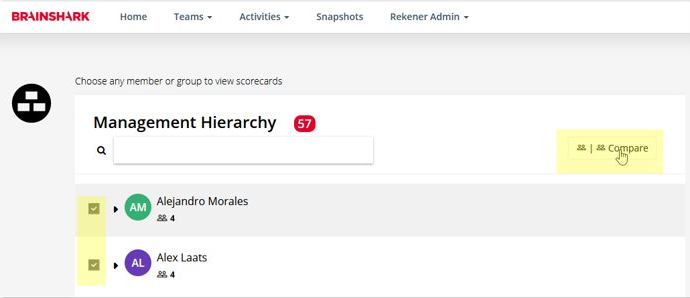 Notes:
Users who are not assigned a manager will appear under the "No Manager" category in the Hierarchy
When a group of Brainshark Accounts are linked in a circular fashion with no discernable top-level manager, they are placed in a separate group called "Circular References"
If an organization has a large organization that results in more than 1000 users at a single Hierarchy level, that tree will not be browsable but will remain searchable