Content authors and administrators can apply completion criteria to their presentations and courses. They also may wish to provide the viewer with direct access to review their progress in the training; in comparison to the set criteria. Brainshark provides the Link to completion results setting for this.
The Link to completion results would populate an option for the viewer to access a page that details their progress in meeting the set completion criteria. This will also display the results for the question slides they have already answered, and will also reflect the correct answers.
Authors or administrators may wish to enable this in order to provide their users with access to review results on their progress.
There are two methods that viewers can access the completion results page with.
If enabled through the completion indicator:
Users can click the eye icon within the completion indicator; directly above the table of contents.
This will launch a new window with the completion results page.
If enabled through completion branching:
Upon meeting the set completion criteria, a 'Next Up' icon will populate toward the bottom right side of the Brainshark player. This will flash for 7 seconds before automatically disappear from view. The users can further select the three dots to access the Next Up icon after this however. Upon selecting the 'Next Up' icon the completion results page will launch.
Example completion results page: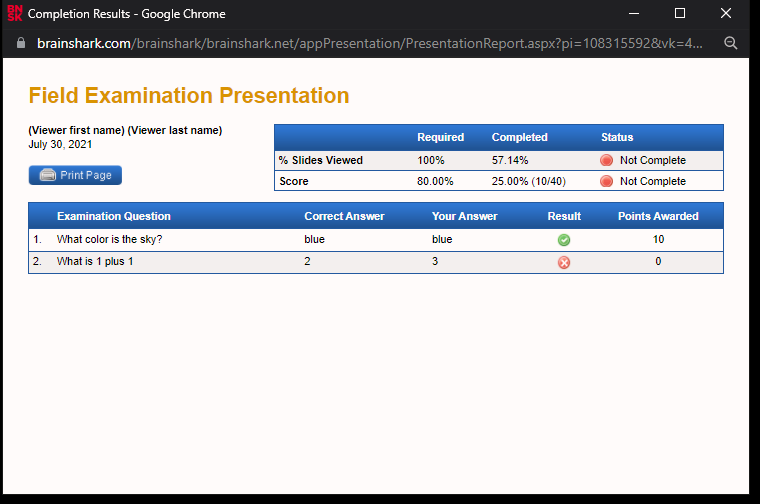 Notes:
At this time we do not have an available functionality that would enable authors to customize which information populates on the completion results page.
Viewers can print the completion results page as a form of evidence of completion.
The completion results page currently will not display submitted survey essay responses
This setting will require completion criteria to be enabled. The completion indicator will also need to be enabled for this.
Additional Training