When users attempt to add audio to a presentation or respond to a Coaching activity by using the "Record with Webcam" option, they might see an error message like the below and be unable to record.
"Unable to access your microphone/camera. Please check your browser's content settings and refresh your page."
HTML5 Recorder Instructions:
Chrome Only:
To the left of the web URL, click the "i" or lock icon to open a drop-down of site settings (see screenshot). Check that both Camera and Microphone are set to Allow.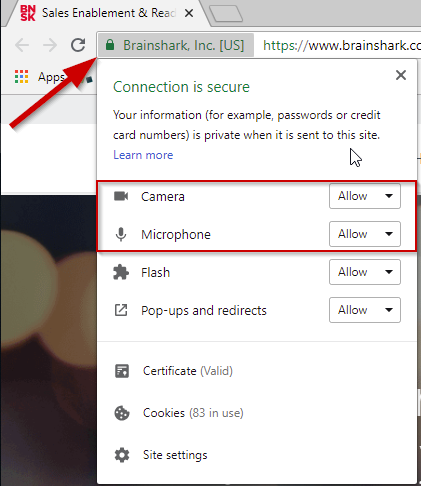 If you do not see Camera and Microphone settings listed, please select Site Settings at the bottom of the menu. This will open a new tab where you can set Microphone and Camera to Allow.
Note:
Please note that microphone and webcam recording on Internet Explorer was sunset on October 31, 2020.